Monday's We Slay – Student and Hospitality Night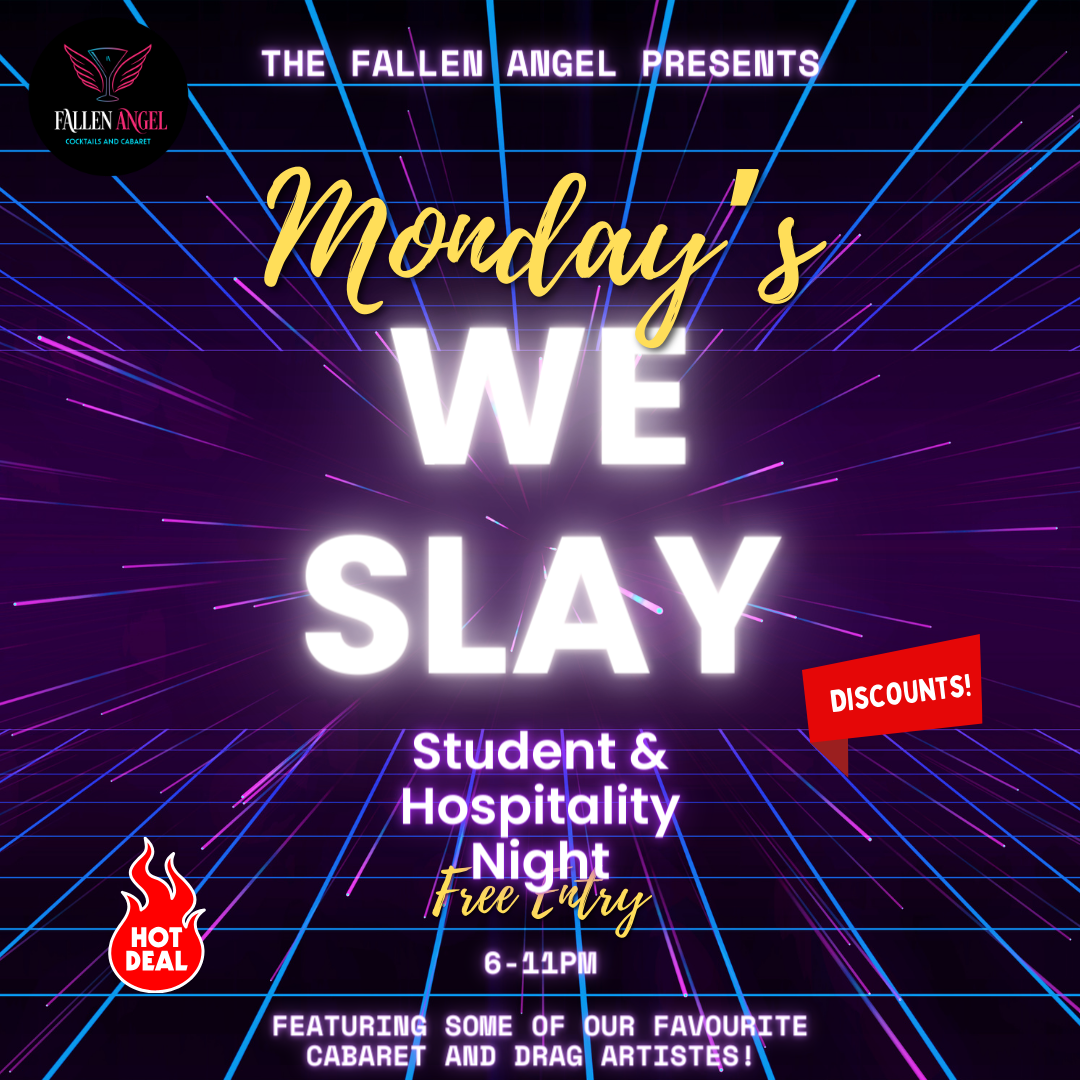 Event Date:
October 23, 2023
Event Location:
Fallen Angel Bar, Angel Hotel
🌟 Student and Hospitality Night 🌟
Get ready to kick off your week in style! Join us for "Monday's We Slay," the hottest student and hospitality night in Guildford. This electrifying evening promises unforgettable entertainment, massive drink discounts, and a pre-club party atmosphere you won't want to miss.
🍹 Huge Drinks Discounts 🍹 Enjoy wallet-friendly prices on a wide selection of beverages, from classic cocktails to your favorite shots. Our Monday specials are designed to keep your spirits high without breaking the bank.
💃 Drag and Cabaret Performances 💃 Prepare to be dazzled by mesmerizing drag and cabaret performances that will leave you speechless. Our talented performers will take the stage, serving up jaw-dropping acts, stunning costumes, and a whole lot of sass.
🎉 Great Place for Pre-Club Party 🎉 Looking for the perfect spot to start your night out? Look no further! "Monday's We Slay" is the ultimate pre-club party destination. Gather your friends, grab a drink, and set the tone for an epic evening ahead.
🌈 Guildford's Only Cabaret Bar 🌈 We take pride in being Guildford's exclusive cabaret bar. Our venue oozes charm, with an atmosphere that's both welcoming and vibrant. Join us for an unforgettable night in a unique setting.
🥂 Stunning Bar 🥂 Our bar is more than just a place to grab a drink; it's a work of art. Whether you're sipping a cocktail or snapping pics for your Instagram, you'll love the aesthetic of our beautiful bar area.
FREE ENTRY
There is no disabled access to venue
The Fallen Angel is situated inside the Angel Hotel on Guildford's High Street. Entry via the hotel's front door
Seating is unallocated
The Fallen Angel reserve the right to decline entry